 Choosing The Right Flat Bridesmaid Shoes
Flat Bridesmaid Shoes are becoming a popular choice, they're an easy option that are suitable for everyone. Most Bridesmaids would be happy to hear that Flat Shoes have been chosen for the big day, because who is going to complain about spending the whole day in comfort and style. A wedding is a very long day spent mostly on your feet so it's essential that the bridesmaids are comfortable, since they have a very important job of looking after the bride. Plus being assigned flat shoes means that you don't need to change your shoes or go barefoot in the evening. The beauty of Bridesmaid Flat Shoes is that in 2022 they are both elegant and comfortable, unlike years ago there wasn't the options we have today. Many stores have a huge variety of wedding heels but barely any flat styles. XY London  fills the gap in the market by offering a huge variety of Flat Wedding Shoes for Women, from Ballerina Pumps to flat sandals XY London has everything you could ask for in a bridesmaid shoe. Continue reading to discover which Bridesmaid Flats are right for your wedding.
Pointed Toe Pumps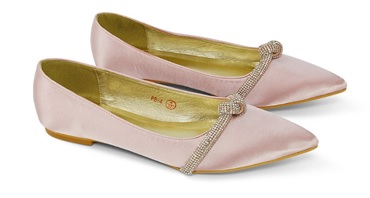 XY London Halley Flat Heel Pointed Toe Sparkly Wedding Embellished Diamante Bridal Pumps in Pink Satin
Due to their elegant shape, Pointed Toe Pumps are one of the most feminine flat shoes a bridesmaid can wear. Plain pumps with a pointed toe make ideal bridesmaid shoes, but choose a pair with high shine diamante features for wow factor. Go for Flat Pumps with a very slight heel, and this will provide more comfort as opposed to being completely flat as this is not as natural for the foot. If you've chosen to style your bridesmaids in short dresses, Pointed Toe Pumps are a must. Take a knee length plum colour ruched material bridesmaid dress and team with Halley pink satin pumps, the contrasting colours will create a dreamy autumn wedding vibe. Have your bridesmaid's hair in sleek low buns, and natural pink nails to match the shoes. Complete the look with a pink satin clutch bag with diamantes.
Sling Back Flat Bridesmaid Shoes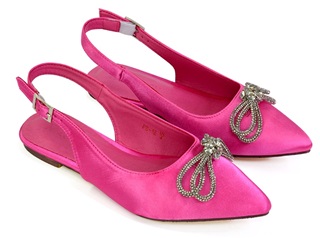 XY London Ossie Slingback Diamante Bow Pointed Toe Ballerina Pump Shoes in Fuchsia
Are you having a wedding that's a little bit out there? If you are then Ossie sling back flats in bright pink will be the perfect addition to create your dream vibes. Go quirky and have all the bridesmaids wear a different colour shoe, something that you wouldn't think works but looks very effective styled with the right colour bridesmaid dresses. A flat shoe with slingbacks and a pointed toe is the perfect combination, this creates a dainty look that can be teamed with any style of dress. A sling back with adjustable buckle fastenings is also well suited to different personal fittings, making them ideal for all your bridesmaids. These Flat Bridesmaid Shoes are bang on trend for 2022, the diamante bow details have gone viral with all the top influencers sporting this style. Take these pink sling back flats and team them with a light pink across the shoulder full length dress. Complete the look with pink studded earrings and pink clutch bag.
Round Toe Ballerina Pumps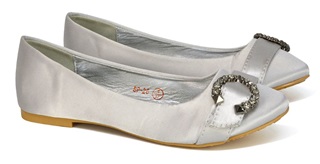 XY London Ferne Diamante Broach Detail Flat Ballerina Bridal Pump Shoes in Silver Satin
Go traditional by styling your bridesmaids in elegant silver flat pumps. Silver bridesmaid pumps are so versatile as this colour will go with practically anything. A classic will never fail to please, it's safe to say you can't go wrong with a simplistic pair of round toe pumps. The diamante buckle details add just the right amount of interest, this detail can be matched to the bridesmaid bags and jewellery. Although the shoes are flat it's essential to wear them in around the house, this will soften the material to ensure maximum comfort for the big day. To continue the classic feel throughout, style the flat pumps with a teal green full length pleated gown. Accessorise with delicate silver diamante drop earrings, and a silver satin clutch bag with gun metal diamante details to match the shoes. Style the hair half up and half down to finish the look off to perfection.
Green Pointed Toe Pumps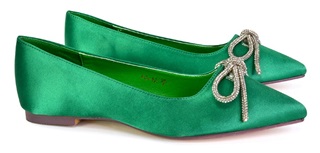 XY London Blossom Diamante Bow Details Pointed Toe Ballerina Pumps in Green
Pointed toe pumps in green satin are the perfect bridesmaid shoes for a Christmas wedding, this emerald green colour teamed with burgundy red gives serious festive vibes. This elegant style is taken to the next level with the diamante bow details, giving them a unique edge. Since diamante bows have been a top trend this year, why not jump on this and stay on trend for your big day. Choose burgundy red A-line cowl neck full length bridesmaid dresses, and accessories with a silver rhinestone clutch bags to match the diamantes on the shoes.
Satin Bow Pumps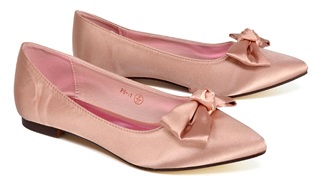 XY London Cally Bow Detail Pointed Toe Ballerina Flat Bridesmaid Shoes in Pink
Create a classic bridesmaid look with Cally Flat Bridesmaid Shoes. These Pointed Toe Ballerina Pumps ooze sophistication, perfect for styling with a capped sleeve v neck floor length dress. If you're going for a traditional vibe these Flat Pumps will help you on your way to creating your dream look, ideal for bridesmaids of all ages too. If you're dressing your bridesmaids in a classy mint green chiffon colour dress, then this pale pink is a perfect match.