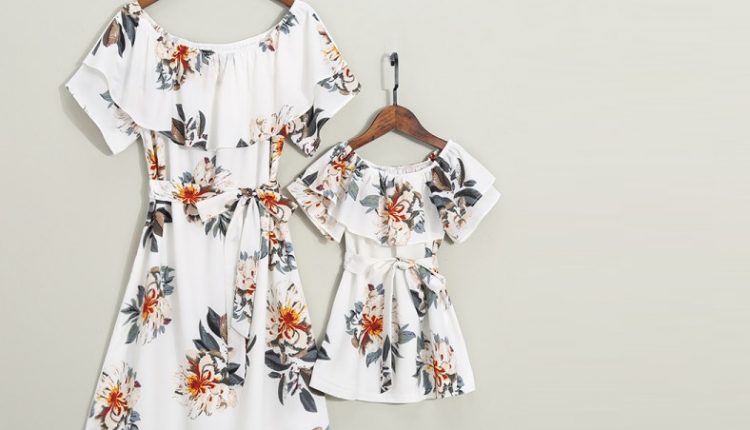 MOMMY AND ME CLOTHES: A GOOD IDEA TO ADOPT THE MOTHER DAUGHTER LOOK!    
Your little girl wants to dress like you, why not? It's not just Hollywood stars who can adopt the mother daughter look! As a fashion addict, you are not immune to this fashion.
MOTHER DAUGHTER LOOK: A GLOBAL TREND, FROM CATWALKS TO AMATEUR SEAMSTRESSES
It will not have escaped you: the mother daughter look is an essential trend of the moment, and on all continents! Indeed, the number of followers is growing from year to year and is no longer limited to Hollywood stars. Regularly, many foreign celebrities do not hesitate to appear with their daughter, both dressed in an almost identical outfit. This is also an opportunity for them to make the buzz on social networks. This is what has, without a doubt, led this phenomenon to democratize, the stars having made their fans want to be like them.
The mother daughter look has conquered fashion designers who have made it the main theme of some memorable catwalks. Then it was the turn of ready-to-wear brands to rush into the breach to offer ordinary mothers a stylish range of baby clothes for girls.
Did you know? Fashion brands are expanding the mother daughter concept to offer "siblings" collections, matching "father son" clothes and even "family" ranges. Thus, the outfits are available for all members of the same family. History to proudly claim its belonging to the same tribe…
LIKE MOTHER LIKE DAUGHTER: BEST PRACTICES FOR THIS SARTORIAL FASHION
Why succumb to the mother daughter look?
Opting for mommy and me clothes is a way of showing off your bond. Of course, it's aesthetically appealing to see a daughter and her mother wearing identical outfits.
Indeed, it is a golden opportunity to share a complicit moment where each one will be able to give his opinion on the outfit to adopt in common: choice of colour, style… This moment of sharing upstream strengthens mutual attachment and creates great memories.
How to properly adopt this mini-me trend?
For some refractory people, the mini-me dress style risks erasing the child's personality.
However, this is not the case: the mother daughter look does not prevent a child from building his own identity, provided that certain good practices are followed:
If your daughter is old enough to express an opinion, give her the choice of whether or not to agree to wear an outfit that matches yours that day, or wait for the request to come from her. Involve her in the selection of fabrics, patterns and colours before going for shopping.
Adopt mother daughter outfits for special occasions (weddings, family celebrations, birthdays, etc.). It's fun to wear the same clothes as your daughter at a special event. But it is not recommended that this be on a daily basis. Dressing identically on an occasional basis allows you to showcase your bond and your filial bond at one point, while affirming your different sartorial tastes the rest of the time. It is essential to help your child to develop his personality serenely.
Rather than consistently choosing identical clothes, try a variation of the mother daughter style such as outfits that are not identical but matched. Thus, the "binoculars effect" is much less marked.
THE DIFFERENT VARIATIONS OF THE MOTHER DAUGHTER LOOK
There isn't just one way to flaunt a mini-me look, but many! This mother daughter trend comes in different variants:
Completely identical outfits: Same cut, same colours, same prints. This is the extreme version of the mother daughter look. Adults and children wear exactly the same outfit but in different sizes.
Matching clothes: For example, a mother daughter dress has differences for the girl version and the woman version. The fabric used can be identical, but the cut or the finishes of the mother daughter duo pattern are not the same and consider the specificities of each (age, morphology, etc.).
One common element: Instead of wearing identical clothes from head to toe, you can choose, for example, only a mother daughter skirt.