I love keeping a list of something I want to have in the future. I always find joy in them. This summer, what I am most excited about is completing my summer makeup wishlist! Believe it or not, I am ready! I have come up with the best line up of my summer makeup wishlist! One of my most favorite things about summer is that I get to experiment with makeup and get dressed up. This summer, I want to have something lightweight and totally safe. Here are my top picks this year:
For my face, I want anything that is luminous that offers longer coverage such as 9021-GLOW! Cheek and Highlighter Duo. This will help me glow all throughout the school year to be perfectly honest! This promises something much more than what you could ever look forward to in the summer. What I love most about it is it's actually age-appropriate which means it is perfect for teens my age. This comes in velvety shades of shimmering highlighter and sun-kissed bronzer pair up in a compact duo for light-catching looks all year long. The Customer Oil Blend does the trick as it serves as a liquid binder that helps create the silky feel and transparent base that let those pearls really shine. Petite n' Pretty really dedicated their time and effort to create non-toxic makeup for kids and teens!
For my lips, I want something classic and simple yet sophisticated such as 10K Shine Lip Gloss. It is lightweight, non-sticky lip gloss with high-shine and ultra-cushion in one swipe. It comes in three shades now, the newest one they have is the Glow Down. The rest is called Shell Shocked and Gia Pink. It has a custom doe foot applicator which makes it perfect to be added to complete every little girl's makeup kit. It's amazing as it actually tastes like cotton candy with blueberries, plums and strawberry jam! It shines really well because of the clear oils and waxes blend from Petite n' Pretty.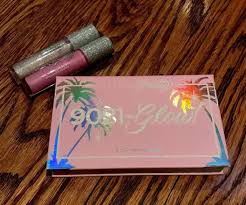 To finish the perfect summer look, I want to have shimmering shades for magical stunning summer vibe such as 9021-GLOW! Eye and Cheek Palette. A collection of six eyeshadows in finishes ranging from amped-up sparkle to dialed-down satins, plus a super pretty blush and highlighter, to give eyes and cheeks the ultimate sheer wash of color. Perfect for the night in the beach with a bonfire as I might put in a touch of highlighter to the inner corner of my eye to add a pop of shimmer to them. My friends will definitely go crazy over this eye and cheek palette. It is completely safe for teens even for kids as they are created especially for kids.
Those are my the best to complete my summer makeup wishlist! I can't wait to have everything ready and wish for summer to roll around soon enough. I am just really glad that Petite n' Pretty made it easy for me to complete my summer makeup wishlist! They have the best teen makeup every teen girls could ever dream of. I just feel really lucky and blessed to be able to look forward to experiencing the best summer of my life!