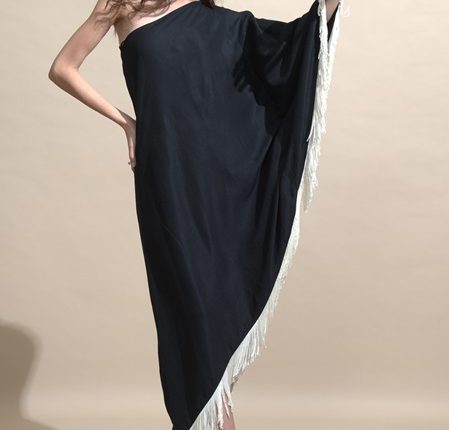 Kaftans: Traditional Look Wrapped In Modern Elegance!
 Keeping in accordance and pace with evolving sartorial patterns, being a fashionista is a challenge in itself. However, every woman's dream is to look absolutely stunning in every outfit and be able to carry it with ease and comfort. Kaftan dresses are such versatile clothing that ensures the idea of modernity laced in tradition and gives off elegant vibes. 
• Concept of Kaftans:
Loose apparel with free flow in sleeves and long ankles reaching hem is called kaftan. It originates from the Middle Eastern dress pattern that men officially wore as robes with buttons. Silk or cotton material is often used with a sash or belt in luxurious fabrics. In ancient history, it marked the elite place of society for the Ottoman sultans of Turkey. Over the years, it has come to adorn ladies with bright patterns and feminine tailoring that gives off classy and chic vibes.
• How to wear a kaftan:
– Beach: A kaftan is a very popular wear at the beaches. These are used as a cover-up on the beach for a bomb look. Breezy fabric that is light on skin is a resplendent accessory of a bikini or swimsuit.
Its ideal for all the body-conscious ladies who wish to reveal just as much skin as they are comfortable to flaunt. Complemented with designer shades and stylish sandals, it's a complete beach garment.
– Casual occasions:  To pull off a drop-dead gorgeous boho look, a pair of flat sandals with a soft and light-shouldered handbag added on with designer sunglasses will complete the trendy kaftan look.
– Formal occasions: These ones call for a more fitted design that sits well to accentuate the right curves in flowing fabric. To make it more alluring, some jazz jewellery with heels is sure to throw the spotlight right at you.
• Important points to consider for buying a perfect kaftan:
– The right fabric: Breezy, silky fabric is the right choice for kaftan when the plan is for a casual setup like beaches or home parties. With matching jewellery and the right accessories, you're a perfect chic there!
– Right length: For a formal day at the office, a medium-length printed kaftan with leggings is a widely accepted and comfortable choice. For a formal party like a cocktail function, long kaftans can be worn.
– Right shoes: One of the best features of kaftans is that they go amazingly well with just any pair of shoes. 
Be it wedge sandals, high heels, or flat wear, anything is good as per the occasion and choice. Cotton kaftan with luxurious high silver heels is an awe-inspiring look for many.
–Right jewellery:  To achieve a sophisticated look, elegant jewellery pieces are important. Watch, ring, pearl earrings are safe and stylish choices. A sleek necklace is a lovely combination.
Dash & Dot is the best platform to buy kaftan dresses online at one's own convenience and flexibility. Explore the website to be the next trendsetter in town.