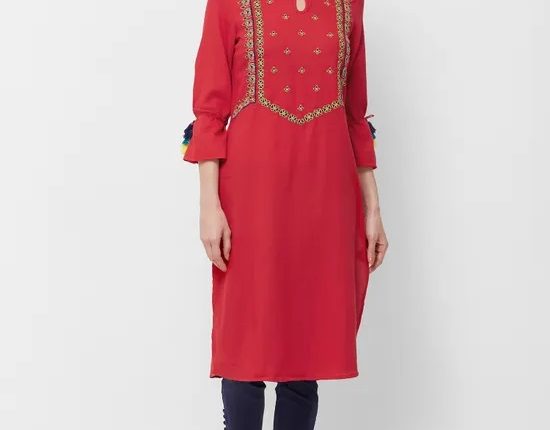 Stylish Ways To Wear Kurtis With Jeans:
When we think of ethnic clothes, the only word that comes to our head is comfort. One of the most loved attire under Indian clothing is the Kurti. Kurti is very versatile, can be worn as a festival garment, casual wear, and even suitable for office wear and can smoothly blend with western clothing. But are you sick and annoyed about wearing the same type of Kurti every day? Well, this is your chance of breaking the predictability. Kurtis styled with jeans will always be everlasting.
1. Long Kurti with Straight-cut jeans:
Long Kurtis come in a plethora of fabrics from cotton kurti to silk to georgette to chiffon. If you are going for a formal look, make sure that you don't choose distressed jeans. Long Kurti with jeans creates elegance and dynamism to your outfit. Style the Kurti with blue jeans and black boots to create that edgy look, complete the ensemble with some oxidized jewellery.
2. Collar neck Kurti with matching jeans or trousers:
 If you are bored of wearing trousers and skirts every day to your office, try pairing your collar neck Kurti with matching jeans and dupatta. You can pair the Kurti with formal shoes or heels along with fine jewellery to complete the ensemble. You can also experiment with make-up, hair to attain a sharp look that is solemn but not stern.
3. Short Kurtis with distressed jeans:
Of all the Kurtis you can pair with denim, short jean Kurtis pulls us in the crowd. There is a wide range of short jean design Kurtis, including popular styles such as puffy sleeves, Anarkali style, peplum, or jacket Kurtis in a plethora of prints and patterns to choose from. Densely patterned or embroidered Kurtis, go well with toned-down denim jeans, whereas simpler, straight Kurtis looks great with black or grey denim. Pair with statement jewellery and colorful bangles along with juttis to complete the look.
4. Slit Kurti to uplift your ethnic semblance:
These are long Kurtis with side slits that can extend up to your waist to allow easy movement. Add glamour to your look by adorning this style of Kurti with a pair of blue or black denim jeans to attain a bold and adventurous look. Pair them with dangling earrings or chandbali earrings. Metallic bracelets or beaded bracelets also look amazing together. Complete the glamorous look with totes, clutches, or slings.
5. Kaftan Kurtis for holiday vibes:
Kaftans were originally loose-fitting garments in countries where the temperature is very high. The easy-breezy silhouette of kaftan Kurti provides comfort and leisure to women making it a captivating choice for vacations to a tropical location. Add accessories like stud earrings, ear-cuffs, hoop earrings, wooden bangles, or cuff bracelets, add a tote bag, a sling bag, or jholas and complete it with oval, aviator, or rectangle sunglasses, heels, black or darker colored pumps to complete the look.
Just throw on your favorite pair of denim, find a Kurti that suits you and create an outfit that matches your taste and wardrobe.